Food traditions are an important part of our cultural heritage. As for many generations earlier, many of the farms and businesses in the food industry are concerned about what grows and grows their own vegetables, has herb garden, berries and fruit. This allows them to serve guests food directly from their own garden, for both dinner and dessert, as well as home-made jams and drinks. Many hunt the food you get served in the mountainous areas right outside the door or fish it in the nearest mountain lake.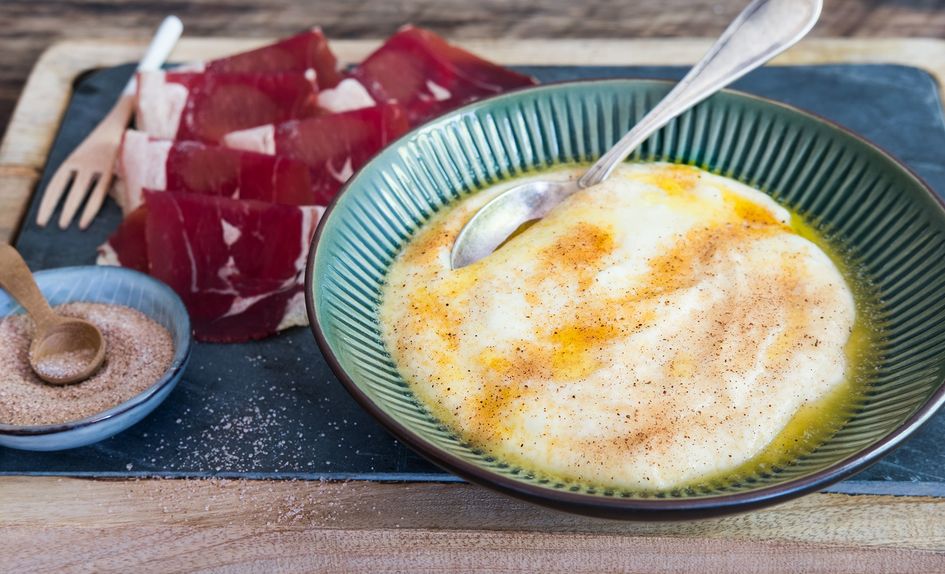 Rømmegrøt (sour-cream porridge)
Rømmegrøt is a very traditional Norwegian dish, and was often served as a mid-morning meal for workers – but was also popular during feasts and celebrations. The porridge is made from sour cream, milk and wheat flour. It is still widely used, either alone as an everyday dish or served together with cured meats at special occasions.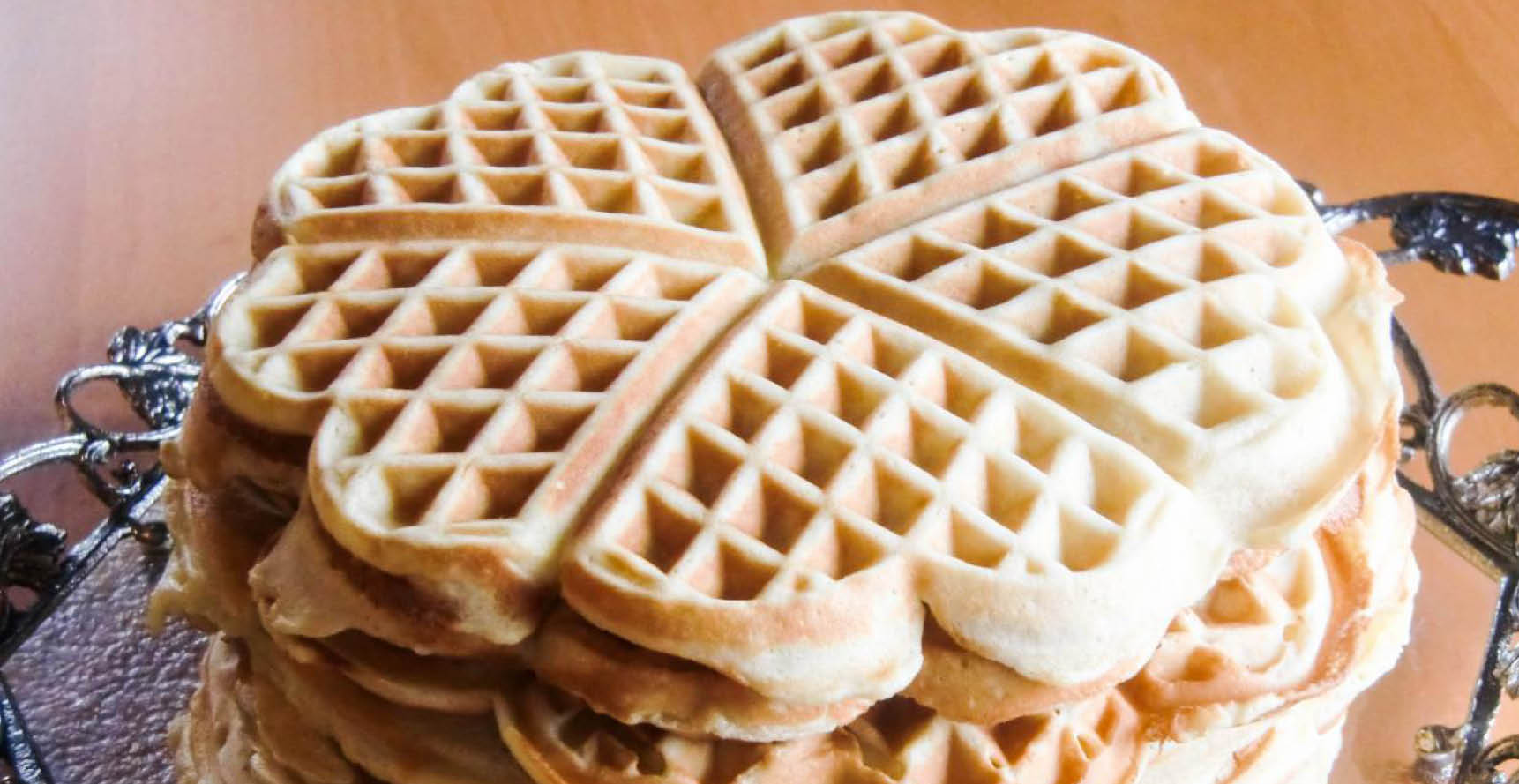 Waffles and sour cream
Norwegians love their waffles, and often enjoy them along with their coffee. Most small cafés in Norway offering coffee and cakes will have waffles on their menu. The waffle is made from eggs, flour, milk and sometimes cream or sour-cream. It is made with a waffle iron, and is usually heart shaped.
Waffles are served with a variety of toppings, such as jam, sour cream (often together with jam), butter, Norwegian brown cheese and sugar. You are usually allowed to help yourself to the topping of your choice, but waffles are also served as a dessert complete with whipped cream and jam.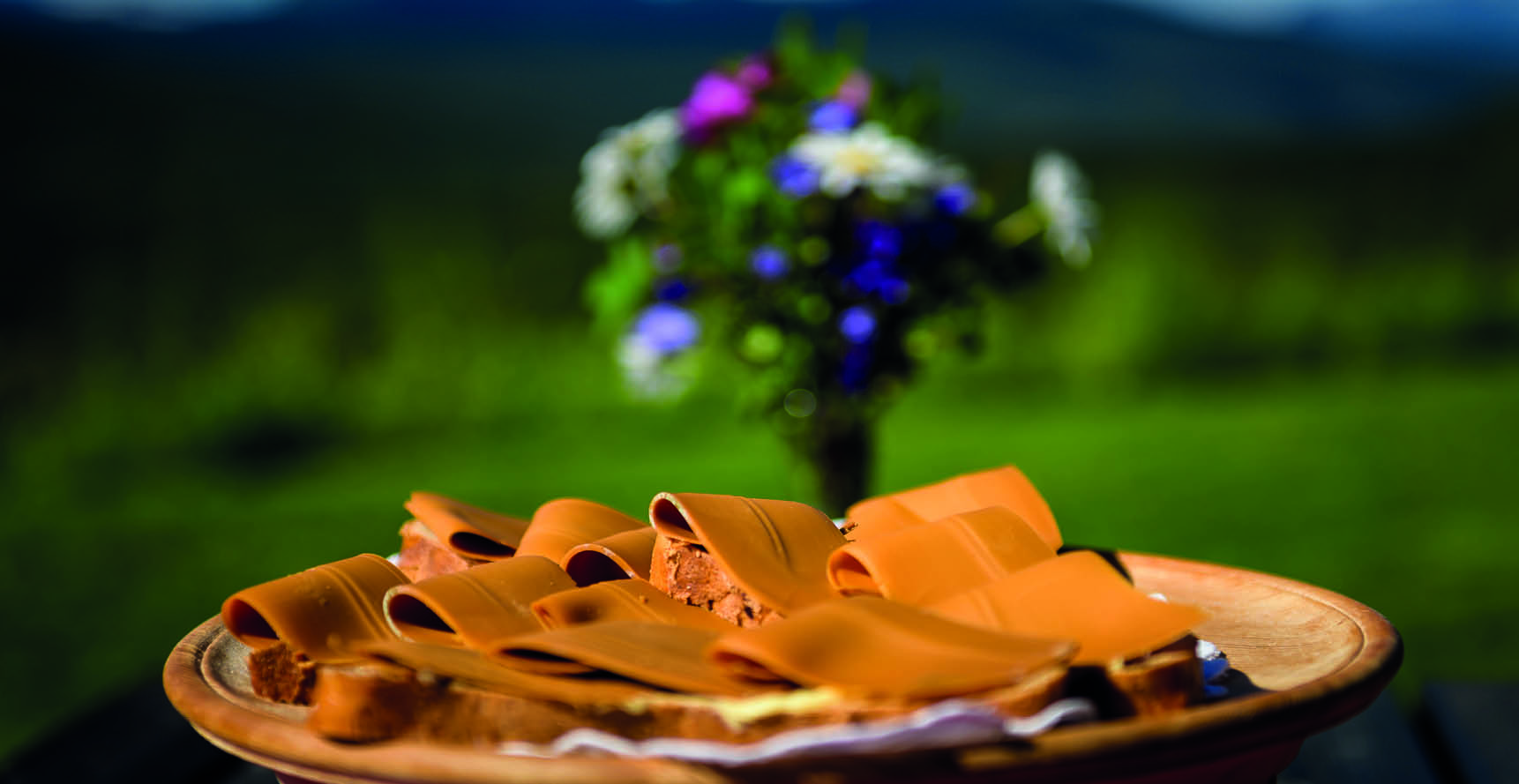 Brunost – Norwegian brown cheese
Norwegian brown cheese is a very traditional product, and is a favourite sandwich topping and the pride of the nation. It is also almost unique for Norway. Brunost is a term used for cheese made from whey to which cow's or goat's milk has been added. The milk's curd is separated from the whey, and whey is used to make brown cheese and the curd to make a mild, white cheese.
Gudbrandsdalsost is the most famous of the brown cheeses, and is a common feature on all Norwegian breakfast tables. It has a history dating back to 1863. At Solbråsetra mountain dairy farm in Gudbrandsdalen, a young dairymaid, Anne Hov, did something which then was considered a total waste. She added cream to the whey, and the Gudbrandsdalsost was born!
The old traditions are still upheld at Solbråsetra by lake Gålåvatnet, and visitors get to experience history at close range. Visit Gålå on a summer's day, and you can still meet the dairymaid and taste freshly made Gudbrandsdalsost.
Traditional local soups
Kål (cabbage) used to the best dinner you could wish for in Gudbrandsdalen; a soup made with bacon and other meats as well as pearl barely – and later also with potatoes and peas. It hardly ever contained any cabbage. The dish was often served on specific days, and was something people looked forward to.
In autumn, when fresh meat from the slaughter was available, a soup called sodd – based on meat and potatoes instead of grain – was a very popular dish. Today these soups are used as everyday meals, but at the time they were considered special treats.
Meat and fish dishes
Traditional dishes, based on ingredients from the forest and mountain, are served at many of Intro Norway's restaurants. On the menus you will find lamb, elk, reindeer and mountain-lake fish. The gravy is made from real stock, and vegetables and potatoes are home-grown or sourced from local suppliers. Desserts are often based on fruit and berries from own garden, the forest or the mountain.
A typical local meal is elk burger or trout with sour-cream sauce as main dish and apple trifle for dessert. See recipe for these dishes.