Lillehammer town at Christmas is peaceful, cosy, and enchanting – the perfect festive atmosphere in which to do your shopping. Its idyllic pedestrian street, lined with charming wooden buildings, is like a Christmas fairytale.
Unique Christmas town with a big heart | A Christmas shopping wonderland
Shopping in the Christmas town with the big heart is a dreamy experience. Explore the Christmas market with its welcoming stalls selling festive food and farm produce, and enjoy sleigh rides around town and the Santa displays in Storgata. The UNIQUE centre of Lillehammer is renowned for its charming shopping streets, vibrant cultural scene, and wonderful warm atmosphere. Old wooden buildings line the pedestrian street – the main artery of the town.
Along with its many exciting modern outlets, there are several speciality shops and a wide choice of textiles, shoes, sports equipment, jewellery, timepieces, interior design, flowers, pharmaceuticals, and wellness products on offer. In the heart of town you will also find handicraft, the state-run off-licence (Vinmonopolet), and grocery stores as well as a wide range of galleries, museums, cafés, and restaurants. Get in to the Christmas spirit with a stroll through the festive streets.
If you have enough time, Maihaugen is only a short walk away and offers its own very special Christmas experience. Welcome to truly enjoyable shopping combined with excellent food, art, and culture.
Christmas lights switch-on, Thursday 30 November
On Thursday 30 November it is time for the traditional Christmas lights switch-on in Lillehammer. Help create some Christmas magic – put on your Santa hat, bring a flaming torch, and join the parade through the pedestrian street and down to the Christmas tree at Stortorget to watch the lights being switched on.
Lillehammer town-centre Christmas market, 9 December
On Saturday 9 December, there is a Christmas market in Lillehammer town centre. Sale of locally produced festive food, cakes, handicraft, and lots more.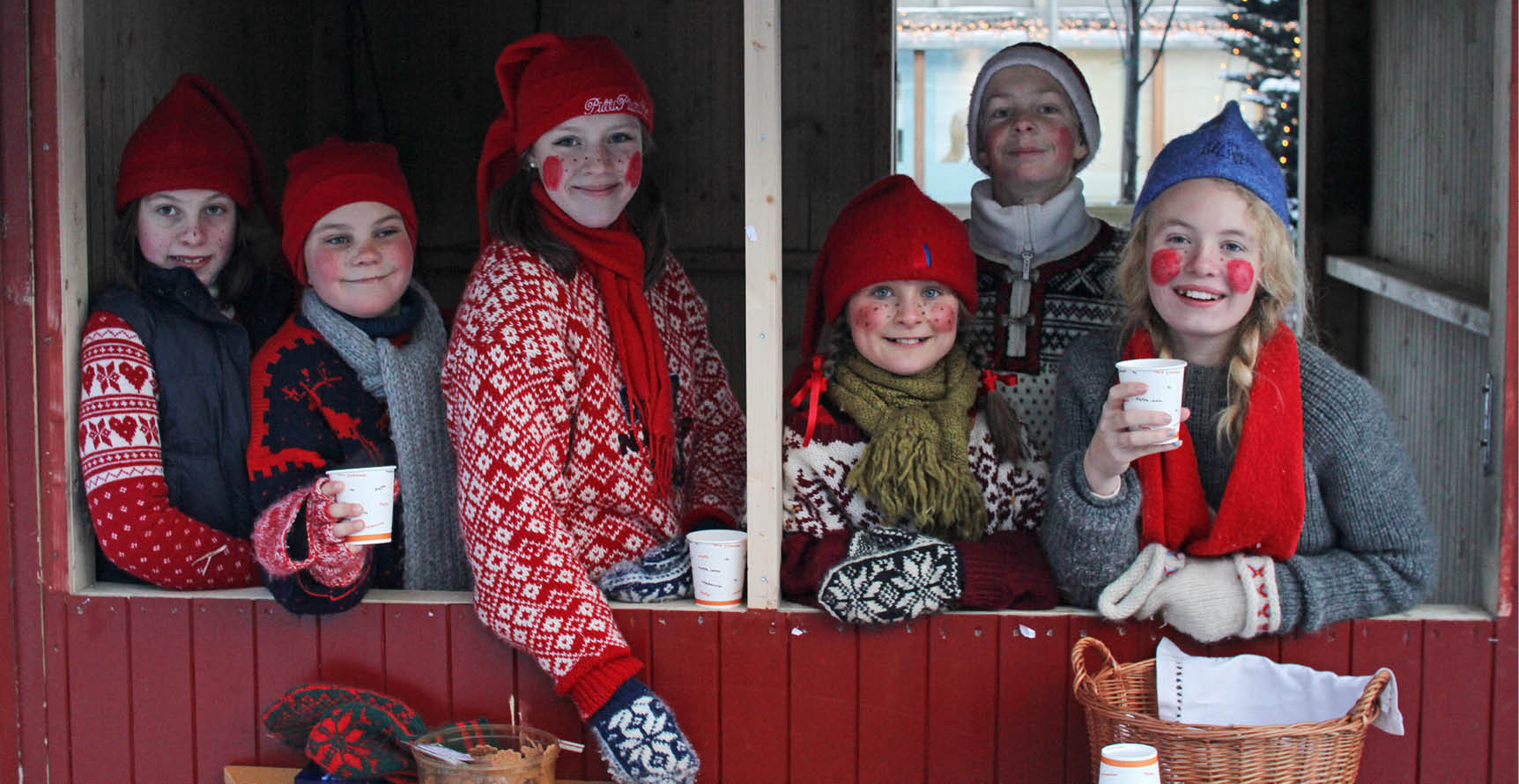 Authentic Christmas at Maihaugen
Idyllic Maihaugen open-air museum is only a short walk from Lillehammer, and offers its own very special Christmas experience. For some real Christmas nostalgia, visit homes from times past and capture the festive spirit of yesteryear. Enjoy the old-fashioned Christmas market, a unique travelling-theatre performance in the dark, traditional carol-singing, or a visit to the barn with all the animals. Click here for full list of Christmas events.